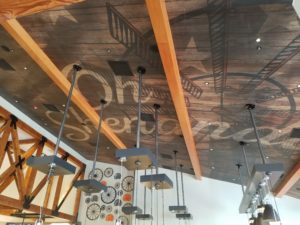 The Shenandoah Lodge and Athletic Club is the rock of Trilogy and Shea homes at Lake Frederick. The lodge contains over 36,000 square feet of community space marked by public areas on the main floor and a private club area on the bottom level for residents of the 55+ community.
Open to the Public
The Shenandoah Lodge features Region's 117, the new restaurant open to the public Wed through Sunday, including Sunday brunch. Regions 117 is based on a locally sourced foods concept from within 117 miles of the restaurant for fresh flavors and local inspiration. Wood fired pizza is the house specialty, and enjoying it from the outdoor patio with views of Lake Frederick is the best part of the new lodge. We absolutely love the pallet swings overlooking the lake and conversational fire pit below. You can book reservations by calling 540-699-3234.
The Inglenook Bar is nestled right next to Regions 117 in Shenandoah Lodge, and is the perfect spot to catch up on sports on the large screen TV's or talk about the large wine selection available. Craft and specialty drinks are available in adorable Trilogy mason mugs.
If you are just looking for somewhere to unwind you'll also find seating areas around the massive fireplace where you can view the changing art exhibits by residents and local artists, or grab some coffee and local foods at the Trilogy Market Place.
Finally, if you need space for a private event you have access to The Paddock where you can create your own menu or have the chef suggest something for your affair, or book the new Shenandoah Events Center if you need room for up to 200. The Shenandoah Events Center is designed as a ballroom with dance floor that is perfect for large meetings or weddings. An outdoor private courtyard can also fit 50 guests.
Members Only
Residents of the 55+ Trilogy community at Lake Frederick also have access to the downstairs of the Shenandoah Lodge and Athletic Club, including the indoor and outdoor pools next door. The downstairs, referred to as the Crows Nest (seems confusing to me, lol, isn't the Crows Nest usually up top?) houses multiple rooms to gather with friends. Ranging from a poker room to a golf simulator, shuffle board, cooking kitchen with demonstrations and even an art room with pottery wheels, there is always something to do.
For weddings & events information, email events@shenandoahclubva.com or call 540-699-3228.
For information on our featured restaurant, Region's 117, email info@shenandoahclubva.com or call 540-699-3234.
Hours of Operation:
Wednesday – Saturday: 11:30am – 9:00pm
Sunday Brunch: 11:00am – 3:00pm
Closed Monday & Tuesday
180 Bald Eagle Drive
Lake Frederick, Virginia 22630